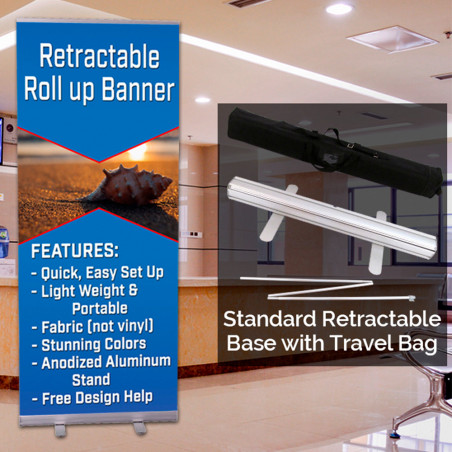  
33.5" Retractable Banner Base with Custom Printed Banner
Product customization
Don't forget to save your customization before adding to cart
Retractable banners are the perfect solution when you need a large but classy indoor display. The affordable 33.5" retractable roll up banner stand is made from durable anodized aluminum. Show off anywhere with this easily assembled portable stand, complete with travel bag. This comes with a custom designed banner printed in vivid color on our Canon Arizona Flatbed Printer!
Whats included?
Custom printed vinyl banner

Exceptional printing with vivid colors

Free basic designs can be provided (or you can provide your own design)

Durable anodized aluminum

Adjustable telescopic pole with bungie cord

Top bar clamp with both end caps

Nylon travel bag
Specifications
Weight: 5.8 lbs (Stand Only)

Banner Width: 33"

Banner Height: 78"

Base Footprint: 34" x 13.5"
* Product recommended for Indoor Use Only (or temporary outdoor use)
This product includes FREE simple design services if you need them. For more information on product design click on the "Getting Started" tab below.
Step 1: Select the number of retractable signs you need using the quantity buttons.
Step 2: Determine whether you are designing the retractable sign yourself or if we are designing it for you. If you are designing the retractable sign yourself or already have a design, use the light blue "CHOOSE FILE" button at the top of this page to attach your file. If we are designing the retractable sign for you, you can use this same button to attach any logos or graphics you need on the sign. If we are designing the retractable signs for you, use the "Design Instructions" box to describe what you'd like on the retractable sign. Please be as descriptive as possible. Make sure you click on the "SAVE CUSTOMIZATION" button to attach the design instructions to your order. If you forget, or don't have the images or instructions at this time, you can go through checkout and then email us at [email protected]. You can also send questions, comments, images, and design instruction to our designers at [email protected]. We will take your design, or design instructions and email you a proof for your approval to print. Please monitor the email address attached to your account for a proof or correspondence. We WILL NOT print the sign until we have your approval.
Step 4: Click on the ADD TO CART button. Note that you won't be able to click the ADD TO CART button until you enter your design instructions and click the SAVE CUSTOMIZATION button.
We can help with designing your sign. We offer SIMPLE design help (a $75 value) which means we will work with you to come up with a design. Since this is a FREE service we don't offer more than one design change after the first design is presented (unless it is a minor, simple change). After that we have to charge a $15 design change fee. So please be as specific as you can when giving us your design instructions. 
We need high resolution images, so send the best image you have. If you have a choice send a vector file (the file will generally end in pdf, ai, or psd).
Designing it yourself: Simply design it to the full size of 33.5" by 78".  Use RGB mode for the best color matching. No bleed or protected area is needed, simply design to the edges of the banner.
PRODUCTION TIME
This Custom Product has an average turnaround production time of 2 days AFTER the approved design is submitted to the printer, plus transit shipping time. 

PROOF/PRINT DISCLAIMER
Screen Proofs depict Design Layout, Text Accuracy & Image Placement, but will only ESTIMATE Color Matching or Color Density. We DO NOT guarantee that the Custom Printed Sign will match the color displayed on your Computer Monitor or Printer exactly.  Every substrate (print media) has a different density than paper so printed material will look differently. We can match colors fairly well, however.

PROOF APPROVALS
Vista Flags has no upload capability on our web site (after checkout), so we communicate via email. Since we need everything in writing, all correspondence concerning custom products is done via email. Once we receive your email indicating a design as APPROVED, Vista Flags is released from ALL liabilities for any errors including, but not limited to: Grammar, Spelling, Color Matching, Size, Image Placement, Resolution, and Color Density. Custom products are NOT returnable. However, we will make every attempt to satisfy our customers.

COLOR MATCHING
While we try to match the colors as accurately as possible, a variety of things will alter the colors, some of which are beyond our control (currently) including humidity.  Inks respond differently to temperature and can change from batch to batch.  If you are designing your own sign and it contains yellow, make it at pure as possible (100% Yellow - 0% everything else), slight percentages of other colors may turn the yellow green. Custom Sign are not returnable.
You don't need a template for this product.  Simply design it to the full size of 33.5" by 78".  Use RGB mode for the best color matching. No bleed or protected area is needed, simply design to the edges of the banner.
3 other products in the same category: