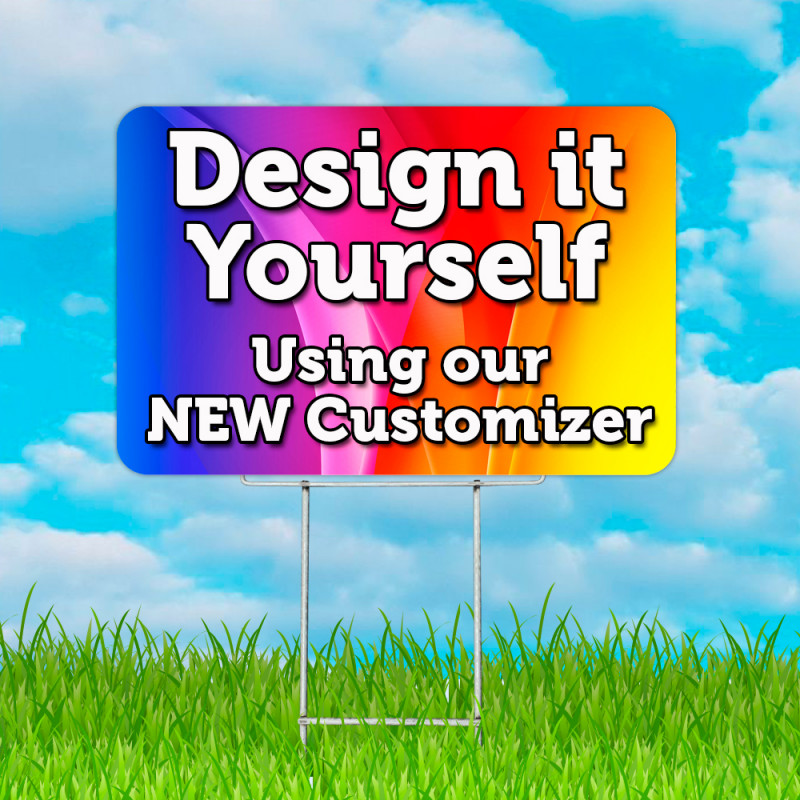  
Design It Yourself - 2 Pack Yard Signs 16" x 24" with Metal Stakes (Made in Texas)
Save $$$ on a 24" x 16" custom yard sign by designing it yourself with our built in customizer. Click on the customize button above to get started.
Our custom 24" wide and 16" tall Corrugated Plastic Yard Signs come with  a metal wire stake. Our yard signs are excellent for all types of uses, from advertising your business, organization, church, or school to directing customers, party attendees, wedding guests to your location. Our custom  2 by 1.25 foot yard signs are bright and eye-catching, perfect for most signage needs.  They don't even have to be put in the yard! Custom yard signs can be used as "open" and "closed" signs for your windows or mounted on a marquee. There is really no end to the uses for these versatile signs.
If you are purchasing a 2 sided sign and you need an arrow on your sign you need to reverse the direction of the arrow on the back of the sign so that both sides point the same direction.
Please NOTE the following BEFORE purchasing.
You MUST use the customizer to create your design for this product, otherwise we have no idea what you want. If you need some inspiration you can view our stock yard sign designs to see whats possible or click on the examples tab on this product page. If you need help with the customizer tool click the HOW TO tab for instructions. If you realize after placing the order that you need to contact us about your design, you can email us at [email protected].
Our corrugated plastic yard signs offer a durable and versatile outdoor signage solution.  We round the corners of the sign for a professional look.
Our 2 x 1.25 foot custom yard sign ships with a wire stake which allows for easy installation in grass or turf areas. They aren't suited for installation in harder soils. It comes with everything you need to use the sign. 

Our custom yard signs are extremely visible yet unobtrusive. Very well suited for announcing real estate open houses and other open houses. 

These signs can be printed as single-sided, double-sided with the same image, and double-sided with two separate images.

Yard signs with H-Frame stands are very commonly used on lawns and alongside roads as real estate directional signs, but also work well for announcing business services promotions, church parking signs, and work equally well indoors and out. They also work great as informational signs, yard sale signs, announcements, and for directing attendees to weddings and other events.
Check out some of the ways our Custom 16 by 24 inch digitally printed corrugated yard signs are used.
Fundraisers: Custom yard signs make excellent school fundraisers! Promote school spirit while helping raise funds for your team.
It is a great way to raise funds with corporate donors as well. 
Churches and charities can use yard signs for fundraising as well as helping people become aware of their services. 
Corporate Events: Custom yard signs are an excellent way to promote your business. These bright and colorful yard signs will draw attention to your logo, your catch phrase, and/or products. Since our yard signs are digitally printed you can put pretty much whatever you want on them; text, logos, photos, and graphics. 
Special events: Our 2 foot by 1.25 foot yard signs are great for all kinds of special events. 
Custom yard signs are great for celebrating events like: Weddings and Wedding Receptions, Commencements and Graduations, Quinceañeras, Bar Mitzvahs, Confirmations,  Retirement parties, Wedding Anniversaries, Engagement parties, Bridal showers, Funerals and Memorial services, Awards Ceremonies, Births and Birthdays, Banquets and Roasts, and Sporting Events.
Custom yard signs are awesome for Welcome Home events for military, travellers, students, newly weds, coworkers, and friends. You can image how special they will feel!
Custom yard signs make family reunions that much more special. Mark the site of the reunion and/or use them to direct the crowd to the right location.
Our 24x18 inch custom yard signs are great for Schools to honor students that have worked hard with a special sign they can take home and proudly display outside (or in a window) for family and friends to see.
Political events: Our 24x18 inch custom yard signs are especially appropriate for political events. Show your support for your favorite candidate, political party or  position.
PRODUCTION TIME
This Custom Sign has an average turnaround production time of 2 days AFTER the approved design is submitted to the printer, plus transit shipping time. 

WE DESIGN FOR YOU

If you are having trouble with your design you can click on this link to go over to our custom yard signs with design services included.
Enter your design instructions into the COMMENTS box. Include your color/theme choices, your text message, etc. Include as much detail as you can about what you want. Logos and graphics need to be sent to: [email protected]. Images and logos must be vector graphics (usually file types ending in PDF or EPS) because we are going to enlarge them. There is no set-up fee and no color fee (these are digitally printed). Please be as specific as possible when requesting your sign design. Turn-around time on custom designs is one to two days.  When we design a sign for you we will send you images for your final approval.  We will not print a sign without your written approval of the design.

PROOF/PRINT DISCLAIMER
There will be no proofs given after you purchase this product so make sure you have everything the way you want it (including spelling) before you submit the order. We do however preview the designs before printing, so we'll let you know if we have a concern about your design.
We DO NOT guarantee that the Custom Printed Sign will match the color displayed on your Computer Monitor or Printer exactly.  Every substrate (print media) has a different density than paper so printed material will look differently. We can match colors fairly well, however.

Once we have received your order and design, Vista Flags is released from ALL liabilities for any errors including, but not limited to: Grammar, Spelling, Color Matching, Size, Image Placement, Resolution, and Color Density. Custom products are NOT returnable. However, we will make every attempt to satisfy our customers.

COLOR MATCHING
While we try to match the colors as accurately as possible, a variety of things will alter the colors, some of which are beyond our control (currently) including humidity.  Inks respond differently to temperature and can change from batch to batch.  If you are designing your own sign and it contains yellow, make it at pure as possible (100% Yellow - 0% everything else), slight percentages of other colors may turn the yellow green. Custom Signs are not returnable.
Shipping rates for light products like these are based on Dimensional Weight (DIM) and not actual weight.  Dimensional Weight is what the shipping company (FedEx in this case) determines a package of any given size should weigh.  Since they charge by the weight and not the volume of the package, they set a minimum rate for the space the item takes up in their trucks, planes, and cargo haulers. Previous to the implementation of DIM weight companies were shipping small items in large boxes (one size fits all) and taking up enormous amount of space and paying only for the weight.  This is the way the shipping company gets us to keep the volume to a minimum so they can maximize their limited cargo space.  
 So if the weight seems a bit unreasonable, that is because it is. But it is out of our hands. 
1 other product in the same category: