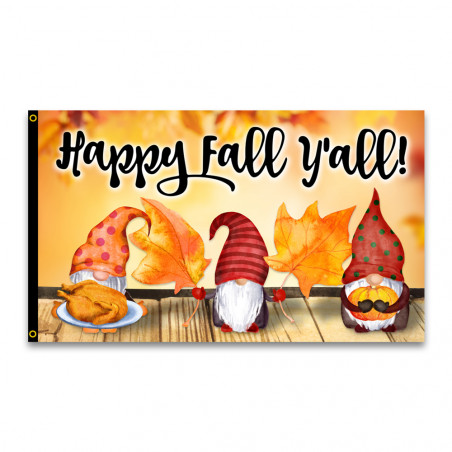  
Happy Fall Y'all Gnome Premium 3x5 foot Flag OR Optional Flag with Mounting Kit
Choose between the full kit with flag, 6' flagpole, and bracket or the flag only. Click on the boxes below to select either the Kit or the Flag only.
Our Happy Fall Y'all Gnome Premium 3x5 Flag is made of light-weight polyester for durability and is dye-sublimated to produce vivid bright colors. Printed in the USA, this flag is the typical size to fly on standard house poles or smaller flag poles. We have reinforced our Happy Fall Y'all Gnome Premium 3x5 Flag on the header (hoist) side with header tape and on the fly side with a hem with 4 rows of stitching.
 
 

This listing has the option to include our 6 foot spinning flag pole kit. Our 6 foot spinning flagpole is a 2-piece brushed aluminum pole that measures 6' x 1" when assembled. This pole has a gold eagle top. Spinning pole technology helps prevent your flag from becoming wrapped around the flagpole. This bundle also comes with an adjustable aluminum mounting bracket (which is silver in color) designed to hold our 1" diameter pole. Designed for eve or wall mounting, it adjusts to 13 different positions to go just about anywhere you need it.

CUSTOM: Need something customized for your particular needs you can see our Custom 3x5 flag by clicking here.
Specific References
upc

841098119485

mpn

VP-3x5-HF2
This is the most common flag size, especially for home use, and it matches the size of most of our stock horizontal flags. These flags are produced in-house. We use high quality flag material and UV fade-resistant ink, for the best quality in the industry.
We reinforce our Happy Fall Y'all Gnome Premium 3x5 foot polyester flags on the header (hoist) side with header tape and on the fly side with a hem with 4 rows of stitching. We also use #4, rust-free, 100% brass grommets. These grommets are equipped with teeth for increased grip and have a larger than standard 1/2" hole for hanging.
This style of horizontal flags is printed on ONE side, yet is readable from both sides. The image bleeds through to the back of the flag and is the reverse image of the front.  This is typically not a problem for people reading the flag since most words can be easily read from their reverse. >
Most of our premium flags are printed on two sides using a heat press so there is as much ink on the front as the back. This makes for a beautiful, long-lasting image. Many of our flags are digitally printed or screen printed and the ink "bleeds through" the fabric so the image is visible on the back side.  These printing types (digital or screen) gets varying amounts of ink through.  Screen printed flags tend to be very bright on the back side of the flag while digitally printed flags will vary on the amount of penetration by color. While exact penetration percentages are really just guesses, we calculate we generally get 95% bleed through on screen printed (most of our stock flags) and 85-95% on our digitally printed flags, which would include some of our custom flags, our premium flags and a few of our stock designs. With all of our print techniques, except double-sided flags, the back side image is reversed.
16 other products in the same category: