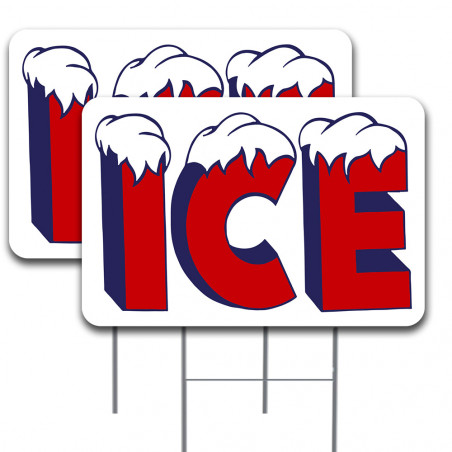  
2 Pack ICE Yard Sign 16" x 24" - Double-Sided Print, with Metal Stakes 841098144999
Capture attention with our TWO PACK ICE 16x24 Inch Yard Signs. These signs are printed on both sides to make placement very convenient. Our signs are made of the highest quality corrugated plastic and printed in vivid bright colors with UV resistant ink. We round the corners to give your sign a professional look.
Our ICE 16x24 Inch Yard Signs are one of the most affordable forms of outdoor advertising and are a fantastic solution for increasing your visibility to prospective customers. Coroplast signs are ideal for placement along busy sidewalks in grass or turf, engaging drivers and other people passing by.
We provide metal stakes for placing the signs in grass, turf, or soft dirt or sand.
These ICE 16x24 Inch Signs do not have to placed in the ground, without the stake it can be placed in a window or you can punch holes in it and hang it on a wall, in a window, or over a counter.  It is a very versatile and inexpensive signage solution.
Our new sized sign is eco-friendly, reducing waste in manufacturing.  These signs can be recycled.

Data sheet
Label

Vista Flags

Product Group

Office Product

Product Type Name

OFFICE_PRODUCTS

Publisher

Vista Flags

Studio

Vista Flags
Shipping rates for light products like these are based on Dimensional Weight (DIM) and not actual weight.  Dimensional Weight is what the shipping company (FedEx in this case) determines a package of any given size should weigh.  Since they charge by the weight and not the volume of the package, they set a minimum rate for the space the item takes up in their trucks, planes, and cargo haulers. Previous to the implementation of DIM weight companies were shipping small items in large boxes (one size fits all) and taking up enormous amount of space and paying only for the weight.  This is the way the shipping company gets us to keep the volume to a minimum so they can maximize their limited cargo space.  
 So if the weight seems a bit unreasonable, that is because it is. But it is out of our hands. 
16 other products in the same category: