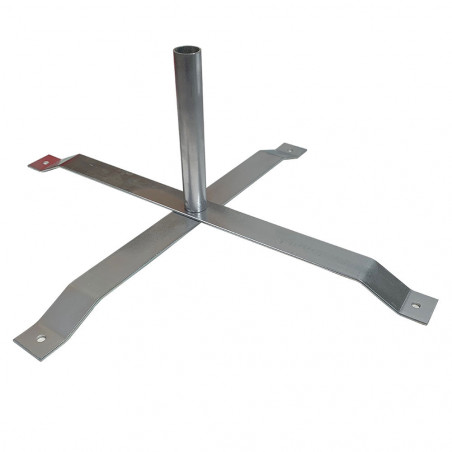  
Cross-Mount or X-Stand Base Mount (Hybrid or Aluminum Poles)
Features
- This stand is designed to be used indoors and on hard surfaces where other mounting systems cannot be used.
- Easy to use and easy to store
- Comes in three pieces. 
- Supports poles with 1in diameter
- All galvanized steel construction.
- Heavy stand can be used on a variety of surfaces.
- Long tube offers pole support.
- Weight: 6 pounds
- Base size: 28 in Long Leg x 24 in Short Leg
- Tube length: 9 in
- Tube inner diameter: 1 1/8in
Considerations
- Flag and Pole sold separately.
- For outside use sand bag is strongly recommended to provide stability.
- For use with our hybrid pole or our aluminum poles.
Works with both Hybrid and  Sets
- Not all cities allows this type of advertising. 
Please check with your local government agencies before purchasing.
- Returns - If we have subsized the shipping, returned products will be charged the balance of our shipping
costs as well as a 15% restocking fee. Used products cannot be returned. Products must be new in original packaging.
16 other products in the same category: