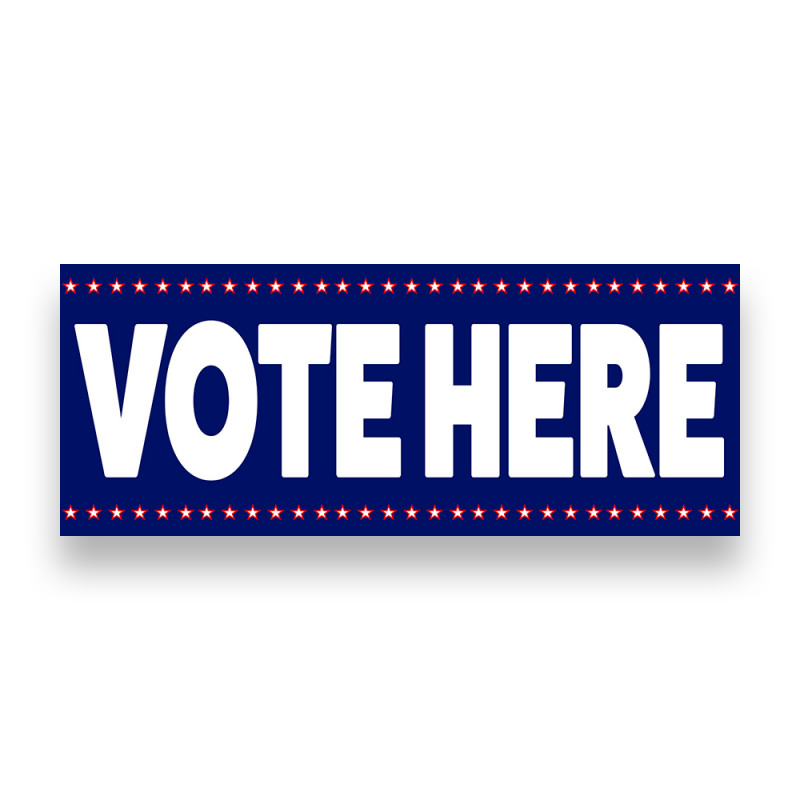  
VOTE HERE Vinyl Banner with Optional Sizes (Made in the USA)
Choose one of the following sizes by clicking on the boxes below:

     
Small:
2 feet by 5 feet
Only $2.50 per square foot
Standard:
2.5 feet by 8 feet
Only $2.00 per square foot
Large:
3 feet by 10 feet
Only $1.60 per square foot
Our VOTE HERE vinyl banners are both durable and convenient and are equally at home outdoors and indoors. Our banners are printed on one side with our Canon Colorado printer with UV resistant ink on durable, high-quality 13 oz scrim vinyl (the industry standard) and feature solid brass #4 grommets for strength and added durability. 
Our aggressively priced stock vinyl banners will save you money. We have designed them specially to get your message out with our bold letters, bright colors, and stylish designs.
Our banners are precision cut, eliminating the need for a hem. For ease of displaying your beautiful new banner, we place #4 solid brass grommets approximately every 2 feet, depending on the size of your banner, and reinforce the corners on the larger banners with very strong banner tape. (Note: #4 grommets are twice as large and strong as the industry standard and most manufacturers do not use solid brass. Brass has the advantage of being strong and it doesn't rust.)
We call these "stock banners" to differentiate them from custom, but each one is printed after the order is received, so please allow 1-2 extra days for manufacturing. Expedited processing can generally be arranged if needed.
For your convenience, our stock vinyl banners are offered in three sizes:
     
Small:
2 feet by 5 feet
Only $2.50 per square foot
Standard:
2.5 feet by 8 feet
Only $2.00 per square foot
Large:
3 feet by 10 feet
Only $1.60 per square foot
Data sheet
Label

VF Displays™

Product Group

Office Product

Product Type Name

OFFICE_PRODUCTS

Publisher

VF Displays™

Studio

VF Displays™
Specific References
upc

841098175283

mpn

VP-VB-VOT1-S
If you need your own wording on a banner we provide custom banners at a reduced price for your convenience. You can see our custom vinyl banners here. We offer free simple design work on all of our custom products. 
Banners turn heads. Whether it's a grand opening or a company fundraiser, bring awareness and foot traffic with a stock or custom banner in a great design. Our vinyl banners come with brass grommets for easy display, indoors or out.
Let's talk about HEMS: Vinyl banners have traditionally had hems and ours don't.
Hems cover up cutting errors.  The reason people put hems on in the first place is that they covered up cutting errors.  We cut ours on a precision cutter, so they have beautiful, clean, straight cuts.
Hems weaken the fabric. Think about it. All those needle holes in the fabric at close range encourage ripping and the early demise of the banner. 
Hems do not provide strength. They were never designed to. We use reinforcing tape on our banners, but it doesn't really need that. Modern vinyl with "scrim" is very hardy stuff.  We use scrim vinyl

 which is a polyethylene substrate, reinforced with polyester cording. This internal cording is what gives it strength and durability to withstand damaging winds and weather conditions.
Normally grommets are a banners weakest link. We use large grommets with teeth and reinforce them with sturdy banner tape to give them more strength and reduce the chance for the vinyl to tear around them. The best practice when installing your banner is to use all of the grommets provided which will reduce the stress, especially on the corners.
Our stock vinyl banners are printed in-house and generally ship out within 24 business hours after receiving your order. 
Why choose a scrim vinyl banner from Vista Flags? Below are a few of the many advantages of scrim vinyl banners:
Durability – By adding a layer of mesh between two layers of vinyl, the banner becomes much more durable. When properly hung, scrim vinyl banners printed with our highly fade resistant UV inks, can withstand the elements outdoors for a year or longer and still look good.
Versatility – Scrim vinyl can be used indoors or out. Because of the increased durability, many companies prefer a scrim vinyl banner over a non-scrim one. 
Water-resistance and waterproof characteristics – Our scrim vinyl banners are made from waterproof materials, making them well suited for outdoor use.
Aesthetics – Scrim vinyl is an attractive choice for indoor and outdoor banners, trade show displays, roll-up displays, and other settings. The mesh scrim adds support and rigidity to vinyl banner materials which enhances how the banner hangs. 
16 other products in the same category: