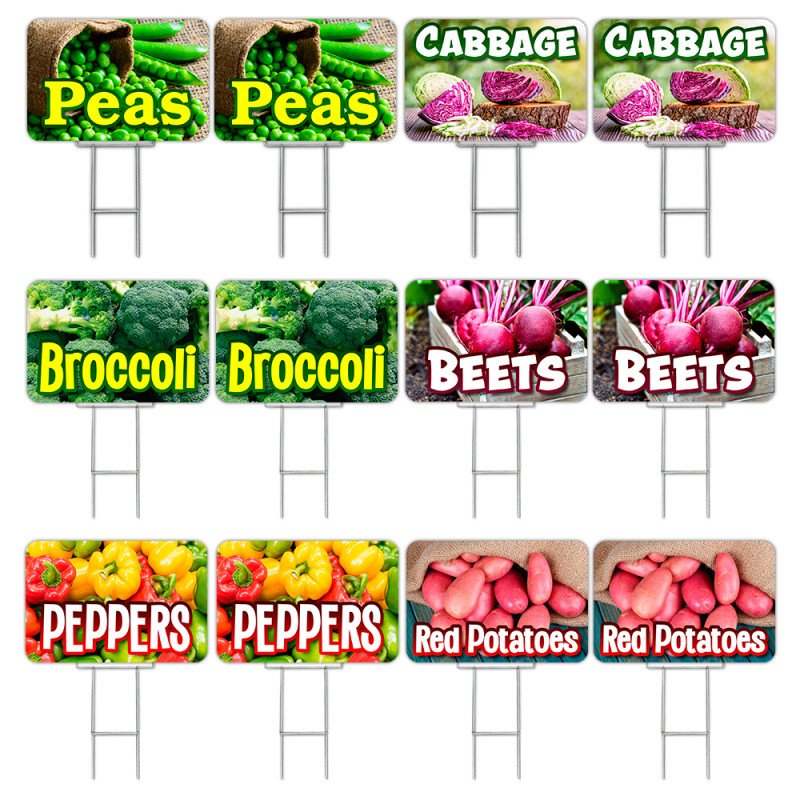  
Assorted Produce Set 2 12 Pack Yard Signs - Each Sign is 24" x 16" Single-Sided and Comes with Metal Stake Made in The USA
Attract potential customers with our aggressively priced Assorted Produce Set 2 TWELVE PACK of 16x24 Inch Signs. This product includes 6 different Produce designs as seen in the pictures. Designed to face the street, these signs are printed on one side only.   Our yard signs are made of the highest quality corrugated plastic and printed in vivid bright colors with UV resistant ink. We round the corners to give your sign a professional look.  Each sign comes with a 10" x 24" double-H metal stake.
This set includes:
2 - Peas Signs
2 - Cabbage Signs
2 - Broccoli Signs
2 - Beets Signs
2 - Peppers Signs
2 - Red Potatoes Signs
These are a standard size for yard signs. The original sign is 16x24, however trimming occurs in cutting, so they are slightly smaller, overall. 
Our Assorted Produce (Set 2) set of 12, 16x24 Inch Signs is one of the most affordable forms of outdoor advertising and are a fantastic solution for increasing your visibility to prospective farmers market customers. Coroplast signs are ideal for placement along busy sidewalks in grass or turf, engaging drivers and other people passing by. 
We provide a metal stake for placing the signs in grass, turf, or soft dirt or sand.
Need something customized for your particular needs you can see our custom yard sign by clicking here.
16 other products in the same category: