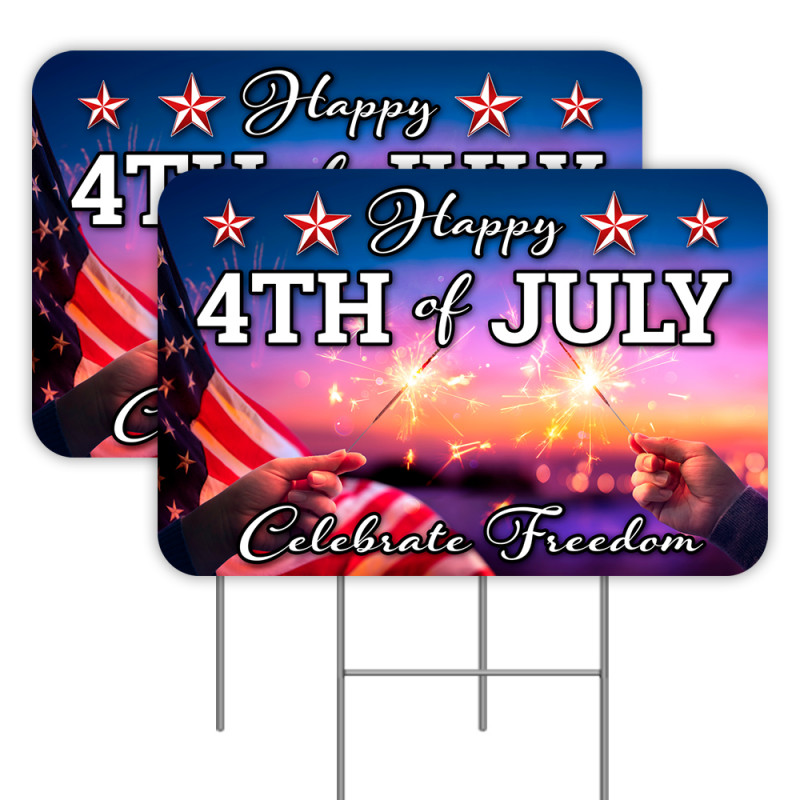  
Happy 4th Of July 2 Pack Double-Sided Yard Signs 16" x 24" with Metal Stakes (Made in Texas)
Our Happy 4th Of July 2 Pack Double-Sided Yard Signs is a great value. Only $12.50 for each of these beautiful signs.

And for a limited time we are upgrading the metal stake to our very heavy-duty, powder-coated Y-Stakes. This is an $8 value (at wholesale pricing)!

Order your 2 pack today to get in on this special offer.
Capture attention with our Happy 4th Of July 2 Pack Double-Sided Yard Signs. These signs are printed on both sides to make placement very convenient. Our signs are made of the highest quality corrugated plastic and printed in vivid bright colors with UV resistant ink. We round the corners to give your sign a professional look.
Our Happy 4th Of July 2 Pack Double-Sided Yard Signs are one of the most affordable forms of outdoor advertising and are a fantastic solution for increasing your visibility to prospective customers, clients, and/or neighbors. Coroplast signs are ideal for placement along busy sidewalks in grass or turf, engaging drivers and other people passing by.
We provide metal stakes for placing the signs in grass, turf, or soft dirt or sand.
This product is generally manufactured after an order is placed so please allow 1-2 business days for shipping.
These Happy 4th Of July 2 Pack Double-Sided Yard Signs do not have to placed in the ground, without the stake it can be placed in a window or you can punch holes in it and hang it on a wall, in a window, or over a counter.  It is a very versatile and inexpensive signage solution.
Our signs are sized to be eco-friendly and reduce waste in manufacturing.  These signs can be recycled.
Need something customized for your particular needs? You can find our custom yard sign by clicking here. Get double-sided Custom Yard Signs for as little as $8.80 per sign which includes our very-heavy-duty powder-coated Y-stake for placing them in the ground (while supplies last).
Lay the stake over the sign and lightly bend the uprights (like on a football goalpost) so they line up with the grooves on the yard sign. The stake's uprights should be parallel with the sign and with each other, so you can slide it right in. Find a spot about 7 inches from the side of the sign and slide one upright in just a little (maybe 1/2 inch). Line up the other side where it goes in easily and put that side in about the same distance. Then push the two sides in at the same time, evenly. Some people turn the sign upside down on a level surface to make this part easier. If it doesn't slide easily you may need to reposition the starting point and check to see that the uprights are actually parallel. With our current upgraded stake (Heavy-Duty Y-Stake) you can use your foot to press the stake into the ground. Find a place where the soil isn't too hard. Grass turf works the best. Because the signs are double-sided they can be positioned either facing the traffic, or perpendicular to the traffic. If you have purchased a sign with an arrow on it, point the arrow on the side closest to you in the direction you want people to go. The other side will point correctly in the same direction.
Shipping rates for light products like these are based on Dimensional Weight (DIM) and not actual weight.  Dimensional Weight is what the shipping company (FedEx in this case) determines a package of any given size should weigh.  Since they charge by the weight and not the volume of the package, they set a minimum rate for the space the item takes up in their trucks, planes, and cargo haulers. Previous to the implementation of DIM weight, companies were shipping small items in large boxes (one size fits all) and taking up enormous amount of space and paying only for the weight.  This is the way the shipping company gets us to keep the volume to a minimum so they can maximize their limited cargo space.  
The bottom line is that if the weight seems a bit unreasonable, that is because it is. But it is out of our hands. 
16 other products in the same category: