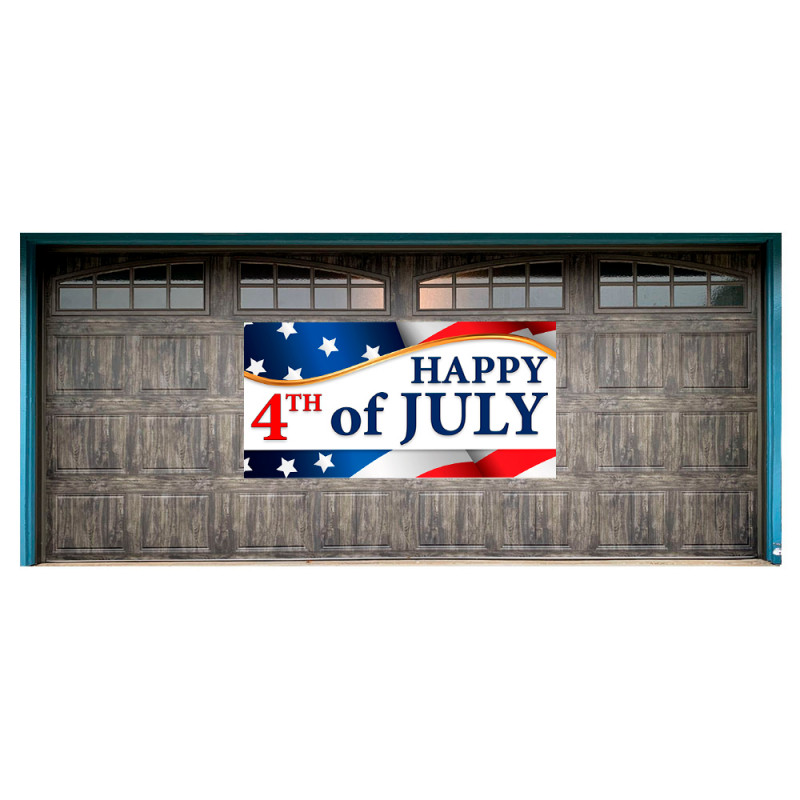  
Happy 4th of July 42" x 84" Garage Banner For Steel Garage Doors
Dress up your steel garage door with this beautiful Happy 4th of July 42" x 84" Garage Banner For Steel Garage Doors magnetic garage door magnet.  This large magnetic banner is designed to fit in two sections on most standard steel sectional garage doors. Because it is magnetic it stays put when you open and close the garage door.
Please NOTE the following BEFORE purchasing.
This is for steel doors only.  Check your door with a magnet. If the magnet sticks your door is steel.  If not it is probably aluminum or wood.
Your sections need to be 21" tall, which is the standard size for most doors. 
Unlike other garage door banners, no other parts have to be purchased. Simply unroll, line it up with the section, and smooth it out. Surface should be clean before attaching. 
The images show the flag (banner) attached to the most common garage door sizes; 8 feet and 16 feet by 7 feet high.
Printed with UV inks, these banners resist fading. 
How to use our Garage Door Banners. 
The surface you put the magnet on needs to be clean. Typically you can just wipe it with a clean cloth.
The magnet needs to be pliable when you put it up.  If it has been in storage for awhile or it is cold, you may need to heat it in the sun (lay it flat) or in the house until it is pliable. 
With the larger sizes it helps to have two people to line it up. Magnets have a mind of their own. 
For storage, if you can lay it on a flat surface that is the best. But most of us need to roll and store.  Roll it with the print face out.  That helps when you go to put it up to make the curl go against the door and not away from it. Don't roll it tight. The looser you can roll it the better.
Over time the magnet will conform to the contours of the door it is on.  When you go to store it, lay it on a flat surface in the sun (on a warm day) and most of the contours will straighten out.
16 other products in the same category: