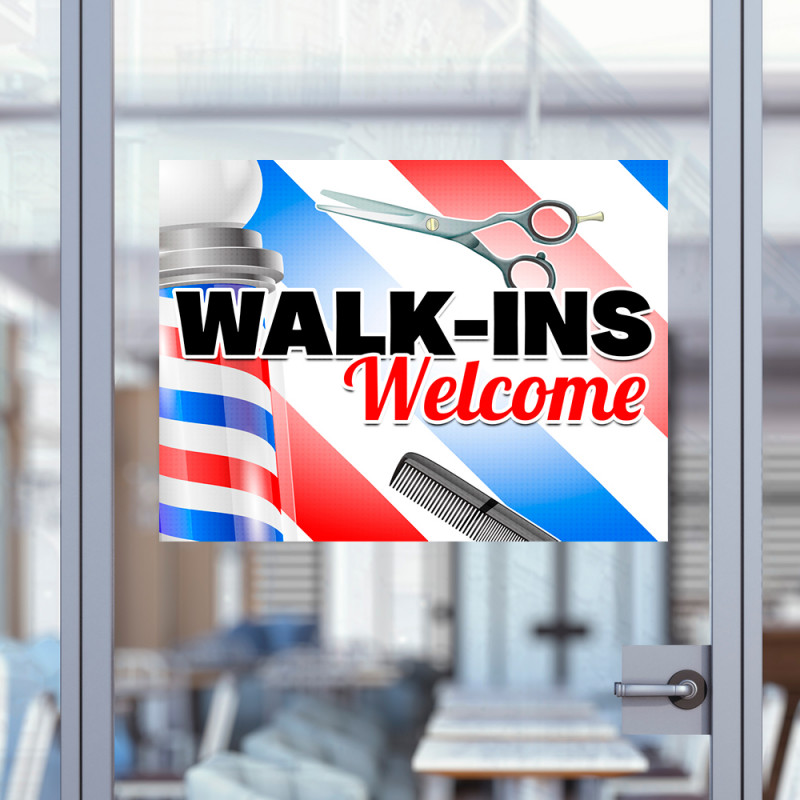  
Walk-Ins Welcome - Barber (32" x 24") Perforated Removable Window Decal
Keep your customers informed with our easy to use, affordable Walk-Ins Welcome - Barber Perforated Window Decal. This decal is oriented horizontally.  The decal is 32" x 24", which is a perfect size for your store window or glass door; large enough to attract attention but doesn't take up too much "real estate."  
Our Walk-Ins Welcome - Barber Perforated Window Decal is easy to install. You can install it yourself in minutes. This decal mounts to the outside of the window to allow for maximum visibility. 
The prices listed are our web special and do not apply to phone orders.
Each decal is printed on our Canon Arizona UV printer for vibrant, long lasting colors. Decals are removable but not reusable.
Data sheet
Label

VF Displays™

Number Of Items

1

Product Group

Office Product

Product Type Name

STICKER_DECAL

Publisher

VF Displays™

Studio

VF Displays™
A perforated window decal is a sign that we print directly onto perforated, adhesive vinyl material, which is removable, so in the future you can easily replace the sign. These decals feature one-way vision, allowing you to see out the window when inside but not inside when you are outside. This is possible by puncturing 40% of the vinyl material with tiny holes called micropunctures. These micropunctures are small enough for the decal to maintain a high-quality image on one side yet be see-through on the other side. Like our examples above.
These decals are designed to be used either indoors and outdoors. The most common uses include business/storefront advertising, window decor, product promotion, window signage, and branding. Often this type of materials are used to cover entire windows, they also deflect sunlight and provide shade and privacy.
Perforated window decals are made with durable vinyl and will withstand rain, sun, and other elements. 
We offer Custom Perforated Window Decals in varying sizes. 
First clean the window area where you want to install your decal. (You know you been wanting to do this anyway, now you have an excuse to get it done.)
Hold up the decal to the area you want to install it to make sure the size is right.
Mark the top two on the glass with something you can wipe or wash off later (like a dry erase marker).  If you have a line level you might want to use that to make sure the top is exactly level (especially if you are even a tad OCD, like I am). These decals are removable, but NOT reusable, because of the holes and the fact that they are vinyl, so taking it off will pretty much make a mess of them).
Pull the backing off the decal. This should reveal the black back of the decal.  If it isn't black, make sure you have pulled up all the layers protecting the back.
Next line up the top to your marks (while holding the rest of the decal back a little bit so it doesn't stick). Stick it at the top and while gently pulling the bottom corners out and down, put the rest of the decal against the glass.
Take a credit card, squeegee or some similar (soft, flexible) straight edge, and working from the center out, push the fabric against the window. 
16 other products in the same category: