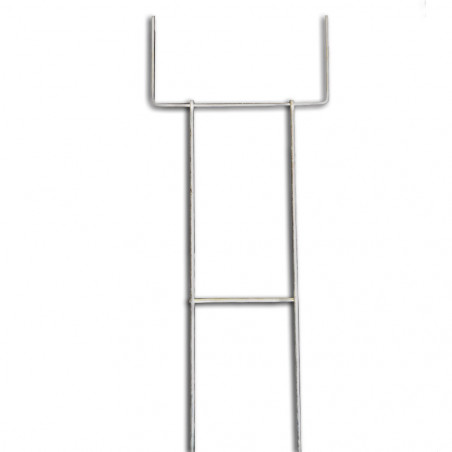  
10 Pack Yard Sign Step Stake 10x24 inch Heavy Duty Powder-Coated Y-Shape for 4mm Corrugated Plastic
Our 10 Pack Y-Shaped Yard Sign Stake has a very heavy duty base piece, made of 1/4 inch wire, that you can actually step on to drive the stake into the ground. The top part is the standard gauge for use in 4mm corrugated plastic - typically called 9 gauge. Because of its strength you can reuse this stake. 
The stake is powder-coated for use outdoors in any weather conditions. 
The length is 24", the same size as a standard yard sign's width (great for shipping with yard signs) and the width of the Y-part is 10" across.  The width of the bottom part is 6" across. 
The 2.5 gauge base piece (the smaller the gauge rating the thicker the wire) is 60% stronger than the standard yard sign stake (9 gauge).  You can see this in one of the images we have provided for you. 
Details
Top Part (the Y): It is called in the industry "9 gauge" but ours is really 7 gauge (3.64mm) and will fit 4mm and most 6mm corrugated plastic sheets, which is typical for yard signs. The top piece is 5 inches tall and 10 inches wide.
Bottom Part (the H): The gauge of the bottom H part is about 2.5 (smaller is better) and measures 6mm or about .236 inches. This is 60% stronger than a standard yard sign step stake. The bottom part is 6 inches wide and 19 inches tall. 
Our Yard Sign Step Stake 10x24 inch powder-coated Y-Shape for 4mm Corrugated Plastic weighs about 1 pound. 
16 other products in the same category: